Hi and welcome to further adventures in metalworking...
Today, I'm working with more of the galvanized metal. I cut out a pumpkin shape, washed and dried it and hammered the edges. Hammering the edges will smooth them, but you may want to file any burrs also. I hammered the surface, too, for a little texture, but it doesn't end up showing much.
This pumpkin is about 3" wide. The metal I'm using is 22 gauge in thickness. I found that the galvanized flashing that my hubby had in his shop was a thicker gauge (20) and wouldn't go through easily the tube wringer. If you're looking for an easy metal to use, I would try a thick aluminum pan or aluminum sheet.
I put the pumpkin through my tube wringer a couple of times. Initially, it is a little difficult to hold the tube wringer closed and turn the handle, but it gets easier as the metal softens and corrugates. If you're not sure what I'm talking about as far as a tube wringer, here's a photo: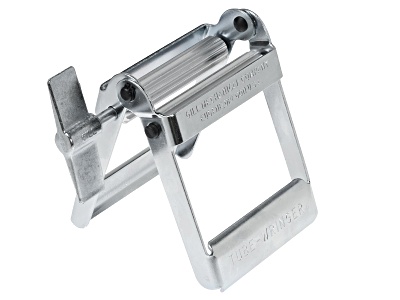 You can find them at jewelry suppliers, on Amazon and in art stores as they are used for squeezing tubes of paint.
Here's the pumpkin and a leaf that I put through the tube wringer and then painted with some Ranger patinas (Moss and Rust).
Corrugated and Painted
They needed a little antiquing, so I sanded them a bit with a sanding block. Then, I had a little fun splatter painting them with some Ginger alcohol ink.
Sanded and Splattered
To attach the leaf to the pumpkin, I punched a hole in each and threaded some 20-gauge wire through. I coiled the wire with round nose pliers and wrapped it around itself to hold.
Here's the finished pumpkin:
Corrugated Pumpkin
Now, what to do with it. It would make a cute magnet or a pin. Or you could tie it to a basket or add it to a ribbon for a napkin holder. What would you do with it?
I finally decided to tie it onto a candle holder...well, pumpkin holder...
Now, I want more of these! Off to get more metal...
Have fun creating!